I never thought one minute eggless chocolate mug cake in microwave comes out super spongy and soft. It can be made instantly within no time.Its really a one minute magic or wonder I would say. I tried this for the first time from
this space
. 
I did some changes in the actual recipe based on the ingredients I had in hand & gave it to Raksha as an evening snack as she loves to have muffins and cakes more than deep fried snacks. When I made this cake in one minute, she was very much surprised and happy to see a cake inside a mug which was new to her. She enjoyed it saying "Mumma its very soft & chocolatey". I immediately made another batch for myself and Sendhil. We too loved it a lot.
To make this picture interesting, I prepared this cake in our personalised mug printed with our photographs . How is it ??. We took this snap last year during our kodaikanal trip. Do try this cake for your kids and you can make them do it by themselves. Its so easy that anyone can bake it. I hope u can try in pressure cooker too. What are you waiting for?? Rush into your kitchen and make this one minute wonder. Please check out the full video recipe below for easier understanding :)
One minute microwave mug cake - Video
Eggless chocolate cake in microwave
Eggless one minute chocolate mug cake in microwave - Very easy n super tasty cake!!


INGREDIENTS
Maida/All purpose flour - 2 tbsp

Sugar – 2 tbsp

  OR sugar –2-3 tsp + Nutella / jam/Peanut butter – 1 tbsp

Cooking oil - 1 tbsp ( i used refined oil)

Milk – 2.5 tbsp

Cocoa powder – 1.5 tsp

 ( i used weikfield)
Baking powder – 1/4 tsp

Salt - a pinch

Vanilla essence- few drops

Choco chips - few
HOW TO MAKE EGGLESS CHOCOLATE MUG CAKE - METHOD


In a mug,take all the dry ingredients. Mix well. Then add oil, milk & essence. Mix thoroughly without lumps & sugar should dissolve completely. Check for taste and add more sugar if needed.



Microwave in 800w power for 1 minute. Cake will raise to the top and it may deflate. Check with a tooth pick .If it comes out clean,ur cake is ready. Else keep it for another 10-20 seconds. Mine took 1 minute 20 seconds.
After taking out, stud in few choco chips & enjoy !!.




Note


Adjust sugar as per the taste of cocoa powder else it may taste slightly bitter.
As it is an instant cake, serve immediately when warm.
As given in the original recipe, you can add a tbsp of nutella,peanut butter or jam. In that case, reduce the sugar to 1.5 tsp and adjust the chocolate powder to 1 tsp.
I used canola oil. U can replace with olive oil or any cooking oil.
Make sure you mix the batter well without lumps.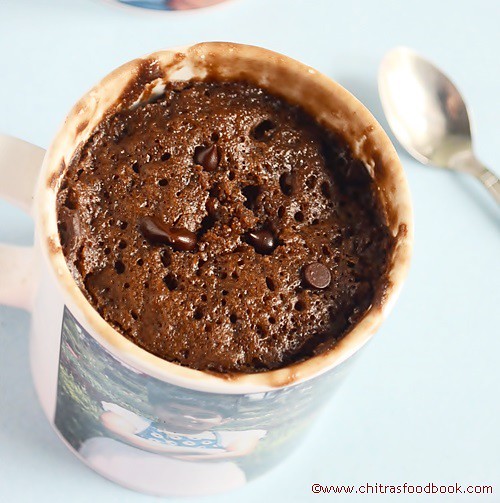 One minute eggless chocolate mug cake is ready to enjoy with super soft texture and taste !
Do check out
Eggless orange biscuit cake
TRIED & TASTED BY READERS
I am so happy to share this cake picture tried by a little girl :)