Recently a reader requested me to share all the chutney recipes for idli, dosa in my blog as a collection under one page for easy reference. Then I realized I had posted nearly 65 chutney varieties as side dish for idli, dosa and other breakfast recipes like pongal, upma, paniyaram, neer dosa, wheat dosa, other instant dosa etc.
Generally we Tamil people make idli, dosa thrice in a week. So whenever I make idli dosa for breakfast, I used to hit my head thinking about the different types of side dish to prepare. And my search ended up with 60+ chutney recipes here. I have categorized them as list of  South Indian chutney varieties like coconut chutney recipes, tomato chutney recipe, onion chutney recipe, peanut chutney recipe, garlic chutney recipe, vegetable chutney recipe, spicy chutney for dosa without coconut, Chettinad style chutney, hotel style green chutney, few easy chutney recipes for working women, Andhra style chutney, brinjal chutney, Curry leaves chutney, mango chutney recipe, Travel chutney, Chat chutney, momo chutney and some thokku recipes for idli, dosa like tomato thokkku, tomato onion thokku and few more for easy selection.  All these recipes are with step by step pictures for easy understanding.
Basically I love making different and tasty side dish for idli and dosa.  Most of them are easy to make in busy morning hours and can be prepared in less than 10 minutes. I have also shared my tips on how to make white colored coconut chutney like in hotels, greenish mint and coriander leaves chutney and bright reddish tomato chutney, how to grind thick chutney, tips to troubleshoot watery chutney during winter based on my experience.
I hope this post will be useful for beginners who look for varieties of chutney recipes for idli,dosa and pongal. Friends, do try these chutney varieties all through the month and take credits from your family members. Ok, lets see the different types of chutney recipes of Tamil nadu for idli, dosa with tips and tricks to grind perfect chutney.
UPDATED : Recently I have made few 3 in 1 video recipes on varieties of easy, no cook, coconut chutney recipes ( white coconut chutney, red coconut chutney and green coconut chutney), 3 types of spicy raw onion chutney recipes and 3 different peanut chutney recipes. I have shared them below. Please check it :)
3 Coconut chutney recipes video 👇
3 Peanut chutney recipes video 👇
3 Raw Onion Chutney Recipes 👇
Tamilnadu hotel coconut chutney
TIPS TO MAKE PERFECT CHUTNEY
These are the tips I generally follow to make my chutneys easily and to look colorful. I hope it would be useful for beginners and bachelors. Experts, do share your tips in my comment section.It would be helpful for all of us.
During early or busy morning hours,the most noisy and irritating job is to grate coconut in large quantities for chutneys. U can buy grated coconut from the shops, freeze it in a zip lock bag & use them whenever needed. But some people don't like the the taste of frozen coconut. Its the same in my house too.
So what I do if I want to grind coconut without grating is, I slice or chop the coconut using the back of a thick ladle. I remove it as thin, small slices for the mixer to grind easily. I don't use knife as it is risky. So I use this ladle (shown in the picture ). This makes my job easier. But one thing, don't follow this procedure everyday. Ur mixie jar blade may worn out/break soon. Make sure your mixie is of high power say 750W. So try this option once in a while if you are in a hurry.
For some people, most of the time coconut chutney becomes watery & it separates from the chutney. To avoid this, first dry grind all the ingredients adding salt. U will get a wet coarse powder. Then add water little by little and grind it for more time. U will get a smooth thick chutney. ( U can also use little milk to get white colored chutneys but its shelf life would be reduced)
During winter season,whenever u grind coconut for chutneys, you will find a layer of whitish oil separated from the chutney. Chutney won't taste good. Use warm water to grind the chutney. The problem will be solved !!
DO's and DONT's TO MAKE WHITE COCONUT CHUTNEY
DO's:
1. Always use fresh grated coconut, little brown coating of shell skin is ok to use. More coconut less pottukadalai/Fried gram is also a must for white chutneys.
2. Less water for Khatti (thick )chutney, add only if its necessary to run your mixie.
3. Indian mixer or small jars are a must.
4. Use small green chillies and always use less green chillies for white color chutney and increase the spiciness by tempering with more red chillies.
DON'Ts:
1. Ready made flakes or desiccated flakes or frozen grated coconut will work but don't expect taste and color. Mostly yuck, pale white color with oily look. In that case, follow the above tip I mentioned for winter season.
2. No microwaving for reheating, just thaw to bring back to room temperature. Reheating makes it release more oil and which results in stinky coconut smell.
3. Blender will not work for thick chutney and adding more water will make it thin but consistency will be still coarse.



TIPS TO MAKE COLORFUL RED and GREEN CHUTNEYS
To get a bright red colored tomato or onion chutneys, use Byadgi red chilli variety (crushed ones) as shown in the above picture. I usually mix byadgi and spicy red chilli varieties to make my chutneys look colorful as well as spicy. Try this tip. It works great. If using chilli powder, use Aashirvad or MTR Kashmiri chilli powder. It gives a nice color to gravies and chutneys.
Bright green chutneys are always appealing to our eyes. To get a bright green colored chutneys, follow this tip. Saute coriander leaves or mint leaves in little oil for few seconds before grinding. Add a pinch of sugar while sauting and add a pinch of turmeric powder while grinding. If you don't want to saute, just add a pinch of turmeric powder and sugar while grinding the chutney. It comes out in super green color.
HOW TO GRIND CHUTNEY IN RIGHT CONSISTENCY
When you grind the ingredients for chutney in a mixie jar, first grind it without adding water. After it turns coarse, add water little by little and grind smooth to the required consistency. This helps to avoid making too thick or thin/watery chutney.
If the chutney becomes watery, add little more grated coconut & fried gram dal ( roasted chana dal) and grind to make it thick.
If the chutney is too thick you can add little water and grind for more time to make it smooth.
Coconut chutney and chutney with dal thickens when it cools down and refrigerated. In that case, add 1 to 2 tbsp hot water, mix well and bring to desired consistency. Check for salt too.
Chutney recipes for idli,dosa - South Indian Chutney Varieties
Chutney recipes for breakfast/Dinner - Side dish for idli, dosa and pongal.
Category:
Chutney Recipes
INGREDIENTS
Major ingredients used in all chutneys

Coconut

Tomato

Onion

Peanut

Curry leaves, coriander leaves, mint leaves

Mixed vegetables

Chillies

Ginger, garlic

Tempering ingredients like mustard, curry leaves.
COCONUT CHUTNEY RECIPES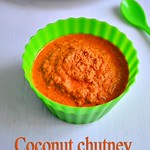 GARLIC CHUTNEY RECIPE


PEANUT CHUTNEY RECIPES


TOMATO CHUTNEY RECIPES


VEGETABLE CHUTNEY RECIPES


ONION CHUTNEY RECIPES


SPICY CHUTNEY RECIPES


OTHER CHUTNEYS and THOKKU RECIPES

I am sure these chutneys would make your breakfast and dinner yummier ! Do try it and let me know your feedback.