Sorry friends.I was not able to post this recipe last Sunday as I travelled to Palani, Tamil nadu. It was an unexpected trip. So I am posting this yummy Kerala style Vegetable layered biryani recipe for this week's Sunday Lunch Recipes series-5.
Generally Kerala biryani / Malabar biryani is mostly done with chicken or mutton. But when I saw this Kerala style veg biryani recipe in
this
 and 
this
blogs, I became very happy and bookmarked them immediately. I was expecting coconut in the recipe but to my surprise the recipe and making is very similar to Hyderabad DUM biryani sans saffron. I just combined both the blog recipes and it came out awesome. I was happy with this Kerala style Veg DUM biryani recipe. Everyone loved its taste & flavor. 
If you don't want to follow DUM method, you can make it simple by just sauting everything in cooker base as we do for our normal biryani. I had tried this in either ways. It tastes good. So try this biryani for your family, friends & relatives and take the credits!!  Lets see how to make this Kerala Vegetable biryani recipe !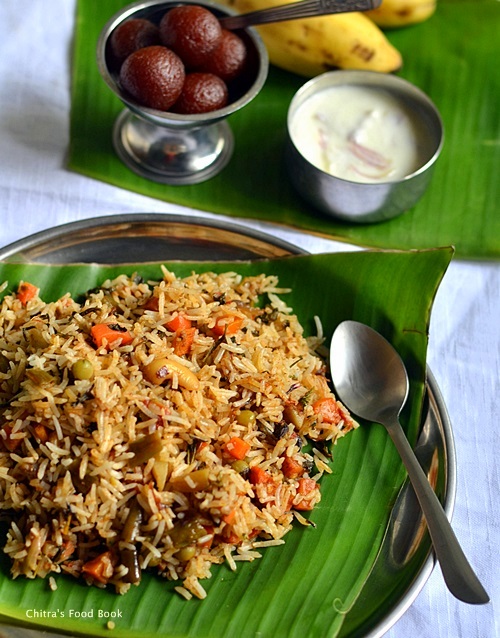 Kerala vegetable biryani - Malabar style
Malabar style vegetable biryani - Kerala Veg biryani recipe


INGREDIENTS
Basmati rice - 1 Cup (I used India gate)

Cloves – 3 nos
Cinnamon – 1 inch piece
Cardamom – 2 nos
Water – 1.5 cups
Ghee – 1 tsp
For Gravy

Ghee – 3 tbsp

  (OR use oil + ghee in equal measure)
Bayleaf – 1 no
Kalpasi/Black stone flower – 2 nos

Big onion - 2 nos

Ginger & Garlic Paste – 2tsp

Green chilli paste – 1 tsp( grind 3-4 nos)

Tomato – 1 no ( finely chopped)

Garam masala powder or Biryani masala powder - 1/2 tbsp

Chilli powder/Pepper powder – 1/2 tsp ( optional)

Yogurt - 2 tbsp

Mixed vegetables - 1/2 cup ( 1 carrot, 5 beans, handful of peas, 1 big potato)
To  roast & garnish

Ghee- 1 tbsp

Big onion - 1 no

Cashews - few
Coriander & mint leaves – few


Lemon juice – as needed


HOW TO MAKE KERALA VEG BIRYANI - METHOD


Wash and soak the basmati rice for 30 minutes to 1 hour. Cook the rice in a pot or kadai adding 1.5 cups of water by adding cinnamon, cardamom, cloves. Cover cook in medium flame till rice is cooked 3/4th. Remove the rice once all the water is absorbed by it. Spread it in a plate and fluff it with a fork. Set aside.
Wash and chop all the vegetables.
In a pressure cooker base, heat ghee, saute bayleaf and kalpasi. Add  the gg paste and green chilli paste. Saute till raw smell emanates completely. Now add the onion slices.
Now add the finely chopped tomato pieces. Saute till it turns mushy. Now add the garam masala or biryani masala powder. Mix well. Check for taste and add chilli powder or pepper powder if needed. Lastly add the vegetables, salt and curd. Mix well. Add little water(say 1/2 cup) & pressure cook in high flame for one whistle.( Do not over cook the veggies.One whistle in high flame would do).
After the steam is released, open the cooker & mix the masala. Make sure the masala is not too dry. If it looks dry, add 1/4 cup of water, give a boil & make it wet with some moisture content.
Heat 1 tbsp of ghee in a kadai & roast onions & cashews till golden brown. Set aside.
HOW TO LAYER THE RICE FOR BIRYANI : Now take a kadai or a pot with flat bottom. Spread one layer of rice & sprinkle few drops of lemon juice. Now spread a layer of cooked vegetable masala over the rice. Sprinkle some finely chopped mint and coriander leaves. Again spread the rice, then masala and mint leaves. Repeat the same until all the rice and masala are over. Lastly add the fried onions, cashews. Cover the kadai with a suitable tight flat lid.
HOW TO PUT IN DUM : Heat a dosa pan in high flame for 3 minutes & after the pan is heated well, simmer the flame completely. Keep the biryani pot/Kadai. Boil water in a bowl and keep the boiled water above the biryani pot/kadai. Let it sit for 10 minutes in very low flame. 
If you feel, vapour comes out of the kadai, wrap the mouth of kadai/Pot with thermal foil before you put in dum. If you have a tight lid, then you don't have to wrap the pan. After 10 minutes, remove the pan and fluff the rice with a fork. Serve hot with raita.

Enjoy !


Note


Adjust the quantity of spices as per your taste.
U can also add saffron soaked milk while layering.
U can put the dum using pressure cooker but keep the cooker directly over very low flame for 5-10 minutes.
Have this yummy Kerala Malabar Vegetable biryani recipe. I served it with onion raita and made Gulab Jamun for dessert !