This is an easy and quick version of moong dal halwa / moong dal sheera. I followed this recipe from Tarla Dalal's website. Usually moong dal halwa takes more time to cook. But this is a quick recipe that can be prepared under 30 minutes. As it is prepared without khoya, I tried it immediately. It came out very well. 
I have tasted moong dal halwa in many North Indian Lunch buffet. I love its coarse texture and softness. When I prepared this recipe, I was very happy that I could make a similar one at home easily. Friends, do try this quick moong dal halwa recipe without khoya. You will love it for sure.  I took a video for this recipe. I will try to add it tomorrow. Now lets check out the recipe with step by step pictures.
Do check out my
easy atta halwa / wheat flour halwa
,
Corn flour halwa/ Karachi halwa
, 
Badam halwa, easy beetroot halwa
 !
I have a happy news to share with you all. Chitra's Food Book has been selected under
Top 100 Vegetarian Blogs in feedspot.  Thank you Anuj !
​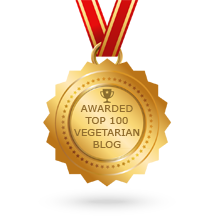 Moong dal halwa at room temperature
Moong Dal Halwa - How To Make Quick Moong Dal Halwa Recipe
Quick and easy moong dal halwa recipe without khoya
1 cup - 250ml

Yellow moong dal - 1/2 cup

Boiled milk - 1/2 cup

Water - 1/2 cup

Sugar - 1/2 cup + 1 tbsp ( actual recipe used 1/2 cup) 

Melted ghee - 1/2 cup

Cardamom powder - 1/2 tsp

Kesar / saffron thread - 1/2 tsp

(soak in 1 tbsp water)

Cashews, badam - 2 tbsp ( chopped)
METHOD
Wash and soak moong dal in hot water for 2 hours.
Drain the water completely and dry grind the dal to a paste without adding water.
Strain the ground paste through a thin cloth. Squeeze the water content.
Heat ghee in a kadai. Add ground paste and saute in medium flame till it becomes golden brown.
Add milk + Water and cook till thick. Add sugar, mix well.
Cover and Cook for 5 minutes in low flame. Mix well.Add cardamom powder, saffron.
When the halwa starts to leave the sides of pan, remove and garnish with nuts. Serve warm.
METHOD - STEP BY STEP PICTURES
Wash and soak moong dal in hot water for 2 to 3 hours.Drain the water completely. Grind to a slightly coarse paste without adding water.Set aside. Chop the nuts finely. Soak saffron in 1 tbsp warm water.Keep aside.


Take a thin cloth and put the ground paste.Squeeze it well and remove the water content. Now the paste looks dry without moisture.


Heat ghee in a kadai. Keep the flame low and add the paste. Mix well till it spreads well with ghee. Cook in medium flame for 12 to 15 minutes till it becomes golden brown and crumbly.


Add milk and water. Mix well till 3/4 th of the milk + water is absorbed by the moong dal paste.
After it becomes slightly thick, add sugar and mix well.



Mixture becomes a semi liquid. Cover and cook in very low flame for 5 minutes. Open and  mix well.
When it starts to leave the sides of pan, add cardamom powder. saffron thread soaked in little water ( soak 1/2 tsp saffron in 1 tbsp water).Mix well.


Halwa becomes thick and starts to leave the sides of kadai with traces of ghee, switch off the flame. No need to wait for the ghee to release. If you stir more, halwa becomes hard after cool down. Remove the halwa in a bowl and garnish with chopped nuts. 
When the halwa becomes warm, it becomes non-sticky and well set. Enjoy when warm for best taste. 
You can store this halwa upto 3 days in refrigerator. You can reheat it in a kadai , microwave or dosa tawa adding 1 tsp ghee to serve it fresh everytime.

 
Note
You can skip milk and use water completely.
Do not reduce the quantity of ghee. Halwa becomes hard.
Do not cook the halwa for more time after adding sugar. Sugar caramelizes and hardens the halwa. Remove the halwa as soon as it starts to leave the sides of pan.
Straining the ground moong dal paste in cloth helps to remove the water content. Hence it cooks quickly.
Try this easy, yummy Moong dal halwa and enjoy !