Pirandai thogayal/Adamant creeper chutney, sounds interesting right?.Yes, i too felt the same when my MIL told about this recipe.I have heard about this plant but i din't know it is edible.After i browsed its health benefits, i was so happy that i got to know a very useful, healthy recipe from my MIL.Thanks a lot aunty
.This thuvaiyal tasted more like thengai/coconut thogayal and i loved its taste very much.
Here is the picture of Pirandai which my MIL brought from our house backyard..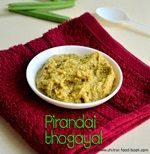 Pirandai thogayal
Pirandai thogayal/Adamant creeper chutney for rice


INGREDIENTS
Pirandai/Adamant creeper - 10 sticks

Urad dal - 1 tbsp

Red chillies – 3-4 nos

Tamarind – Small gooseberry size

Salt & water- as needed

Oil - 1 tbsp
METHOD


Grease ur hands with gingely oil.Wash pirandai under tap water and peel the outer ridge of pirandai like we do for ridge gourd.Remove the top and bottom part.Chop them into small pieces.Soak tamarind in little water.
In a kadai,heat a tsp of oil & roast the chillies,urad dal.Remove and in the same kadai,add little more oil and saute the pirandai.Saute till it shrinks and changes its color.Saute well else it will make ur tongue itchy while eating.Remove,let them cool and grind everything together adding tamarind,salt and water to make a smooth paste.


Serve with plain rice topped with ghee or gingely oil.
As pirandai has amazing health benefits, i wanted to share it with you all !

Cissus Quadrangularis is the biological name of pirandai.It has high vitamin C and calcium.



Pirandai is helpful to cure knee problems and its juice mixed with sesame oil is used in the treatment of fracture and sprain.
Its is also helpful for ladies with irregular menstrual problems.
Pirandai recipes are useful for people with indigestion issues,flatulence,nausea,cough and piles.
Never use ur hands for washing pirandai.Just show under tap water.
Always grease ur hands with sesame oil to avoid ur hands from itching.
Use tamarind in all pirandai recipes else it will make your tongue itchy.